Can't stand your fireplace….your powder room…your kitchen…your pantry?!?!  You name it, we can transform it with paint.  Want to see paint makeover in your home.  Check out these 4 great paint makeovers and dream on!
Often we are asked to completed recreate a space, but the budget and/ or the time frame are too tight for complete demo and 'redo'.  That's when our creativity really shows.  Below is a collection of some of our favorites showing how dramatically just paint can change an element or a space.
Whitewash that darn red brick fireplace!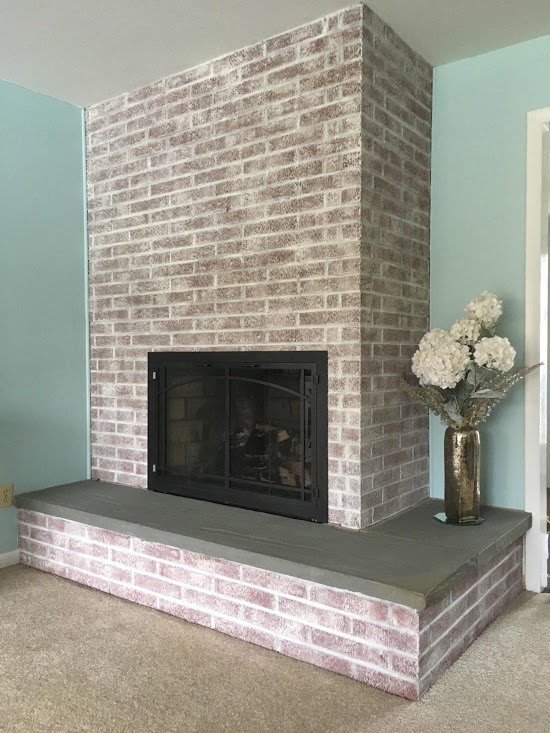 This red brick fireplace completely overwhelmed this soft elegant space.
The client had inherited the house and they were trying really hard to make it feel more like 'today' by painting the walls, but that just wasn't enough.  Distinctive Interior Designs was hired to help to some tweeks to get the house looking beautiful prior to their daughter's wedding shower.  Our solution=whitewash the brick!
Our specialty painter bought a few red bricks from Home Depot and did test samples of several differnt color versions for them to choose.  The final selection was a combo of soft white and a taupe wash.  What a tremendous difference!
We also helped with the powder room.  Take a look below to see how we transformed that…
You don't need to spend a ton!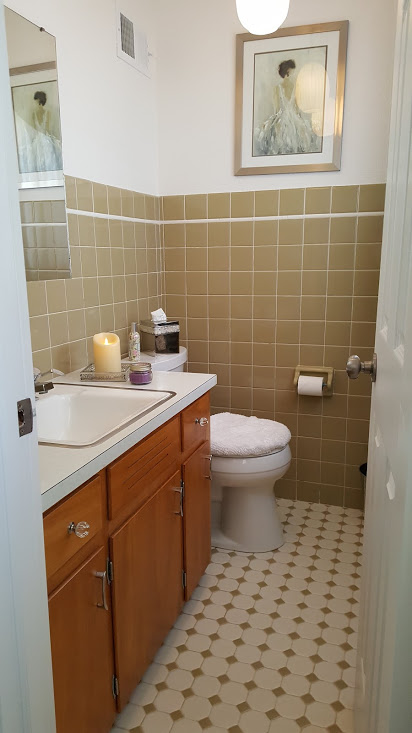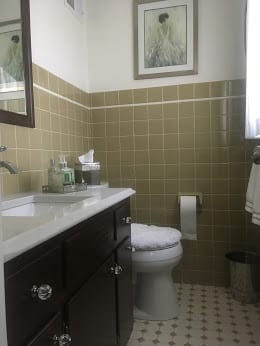 When Susan showed our Lead Designer, Nicole, this powder room she said, 'I don't know how you're going to be able to make this puke green tile look better.'  Nicole immediately fell in love with the retro look of the space and the tile!
Sometimes the 'problem' with a space is not what you think.  In this case, it wasn't the tile….it was the combination of the tile with the orange based wood color of the cabinet.  Distinctive Interior Designs' solution=have our amazing specialty painter transform the cabinet by doing a dark wood technique over the existing cabinet.  We also wanted to have the mirror (which was inset into the tile) really pop–easily achievable with the addition of a simple wood frame painted at the same time to match the cabinet.
Thank goodness we know someone as talented as Donna (and have a great contractor to help out even with a small job like this)!  BTW, we did also have Susan change the counters, sink, and faucet, but the cabinet color change had the biggest visual impact.
Click here to see even bigger renovation projects completed by Distinctive Interior Designs.
Tiffany blue pantry–now cooking is exciting!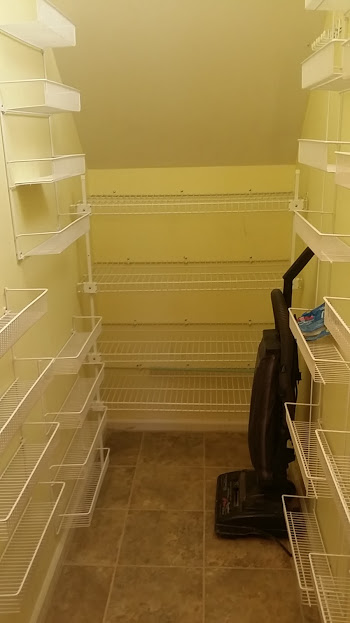 YES–we changed more than just the paint in this pantry, but we can guarantee you that the old pantry (with the wire racks) would have looked 10x times better even with just a simple change in paint!
Beyond painting a gorgeous Tiffany blue color paint in this pantry, Distinctive Interior Designs also hire our custom closet company to rethink the shelving layout.
The end result, this homeowner went from not feeling like even opening the door to this space, to having it put a smile on her face every time.  Now this is one part of the reason she loves to cook in her new kitchen!  The other reason is below…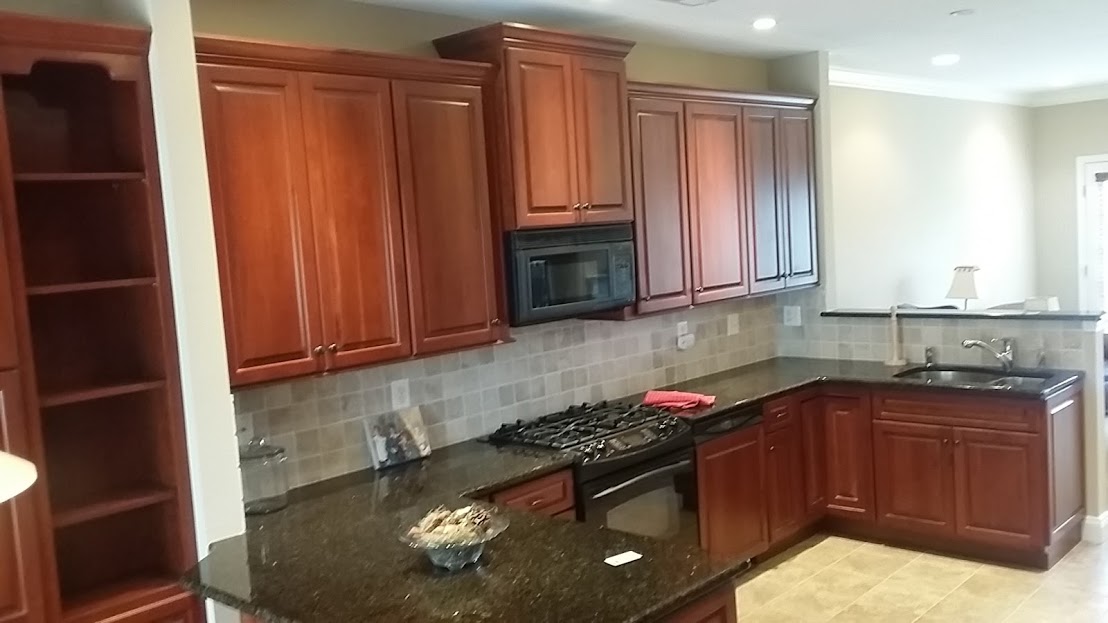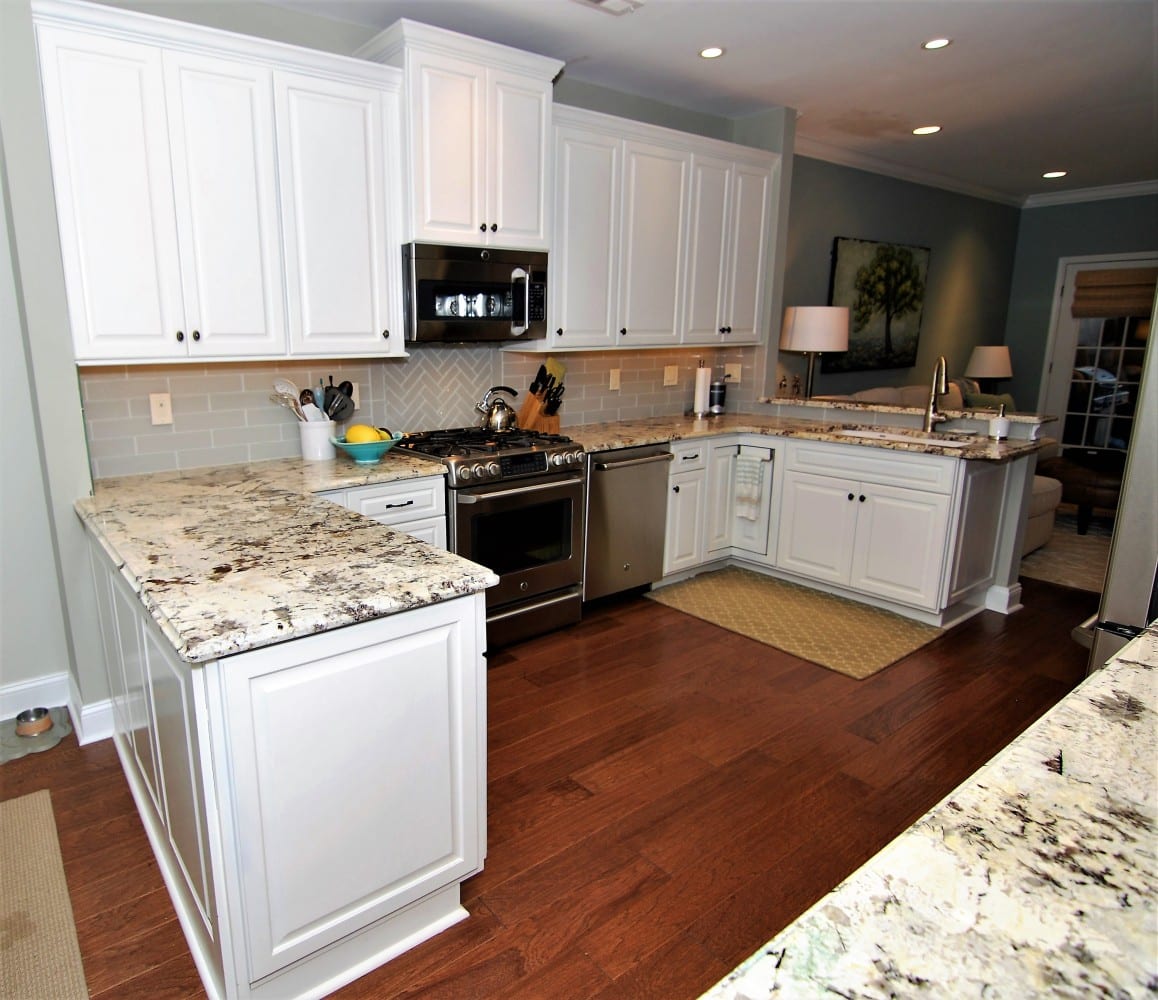 Masculine kitchen vs stylized and bright!
When exploring all the options to update this lake house home, Distinctive Interior Designs had to help the client manage budget vs wishes.  Once wood floors were considered, keeping the cabinet color cherry was no longer possible–contrasting layers is key to a successful end result in design.  As well, brightening this kitchen was one of the most important needs and black counters with black appliances had to change
This kitchen had good quality cabinets an had been completey renovated just 7 years ago.  To keep cost down, we explored the option of refacing and comparted it to painting.  The cost difference drove the homeowner to choose paint–it was 5x less expensive!  $20,000 vs $4000.
Using Stix primer, a sprayer, a short napped roller, and semi-gloss lacquer paint were the keys to having an end result that looks factory grade and has longevity.  Many layers were changed in this space, but the least costly with the most impact was painting the cabinets.  Stunning!
See other ways this home was transformed in Before & Afters.