Being able to work from home is a dream come true for a lot of people in the greater Philadelphia area. However, many people who succeed find that home office organization is difficult – and finding the storage you need can be nearly impossible in a small home office. Creating storage in cramped areas can require a bit of creativity. A closet system is a great way to keep your office supplies, paperwork and sundry organized and out-of-the-way without giving up your precious space. Home office organization helps to stay focused on your work without having to worry about clutter and disorganization. Modern closet and walk-in closet systems are highly customizable and come in a variety of styles and sizes that can be designed to fit your needs. Just because it's going in a closet does not mean you will need to modify shoe racks to make your storage area work for you. Having your closet system custom designed means creating storage that works the way you need it to and looks the way you want it to.  So, here's what you need to know about using a closet system home office.
What You Need – Home Office Organization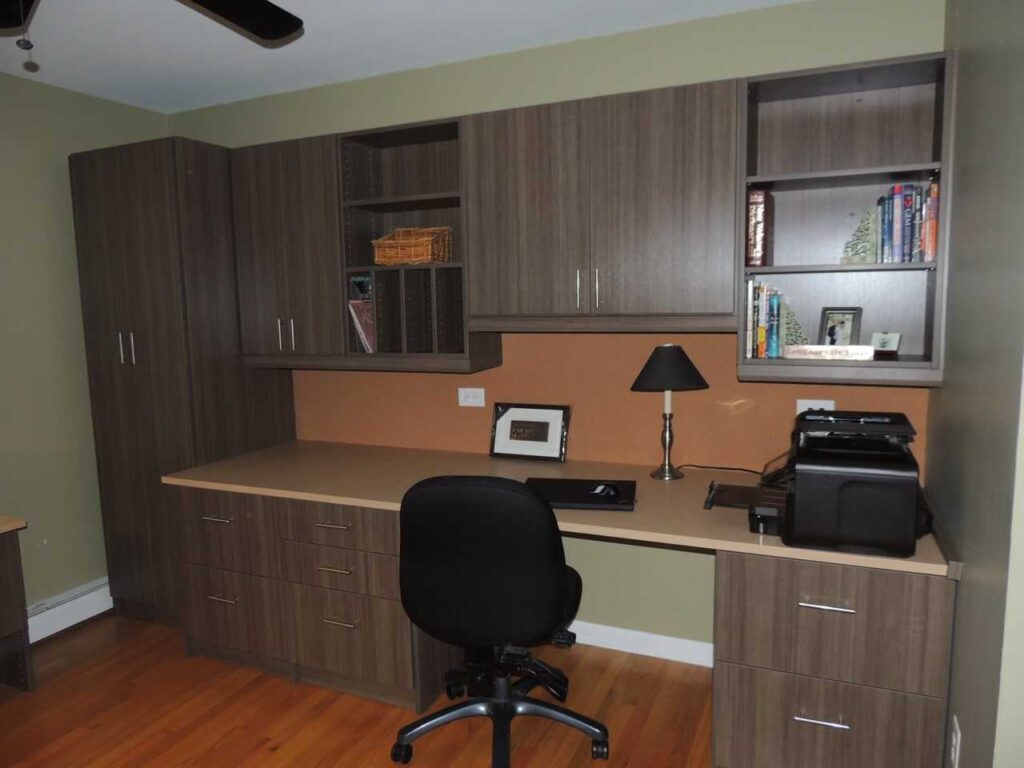 Philadelphia is home to a variety of businesses and industries. Creating the perfect closet system for your custom home office will depend a lot on what you do while you are there. If you go through a lot of paper, make sure that bulk storage space is high on your list of requirements. You may also need to integrate wide shelves or cubbies for storing legal-sized paper or plat maps. If you run a retail business out of your home you may find you need more storage for organizing and storing samples and less for paperwork. Here are a few things to get you started on creating your list of must-haves:
* Do you require office supply storage
* Do you have adequate storage for files and documents
* Do you need to store merchandise
* Do you require a great deal of organization for certain items
* Do you need to hang things or put them in draws
* Do you require locking cabinets
* Do you need hooks, hangers or extendable storage options
You will also need to consider the size of the closet that is being converted. If you need a walk-in closet system you will have much more room, but less space for drawers and cupboard doors, which can be difficult to maneuver around in tight spots. Even for the tightest squeeze, a little bit of creativity can go a long way.
What You Want
One of the benefits of having a custom designed storage system is that you call the shots. You are not stuck making due with whatever you can find at the big-box home improvement store. Once you have decided what you need, the rest is all icing on the cake. Colors, materials – even accessories like bins and mirrors. There are a lot of options available to personalize your closet storage area. These personal touches aren't just cosmetic, they can also help you to define how you want to use your closet storage and what works best for you. Consider the following when you start looking at what you want:
* Do you want certain materials
* Does the color or style need to match your existing furnishings
* Will the system be visible while you work
* Will the area be dual function
* Are there design elements that you would like to incorporate but don't necessarily need
The best way to make your storage space work for you is to build it for how you will use it, not how you think you should be using it. Being happy with your storage means there is just one less thing for you to worry about. Storage is a valuable resource for a small home office, but it doesn't have to be limited. If your home office is in need of optimization or you just want some home office storage ideas, my great resource, Bella Systems Philly, can help you build your way to more time, less mess and better storage with a custom closet, walk-in closet system or custom home office.
(Take a look here to see how 2 of the 3 office areas in this article fit into the interior design project completed by Distinctive Interior Designs.)